Hello, friends. Recently, a car camera was purchased. Works well, the quality of shooting is good, compresses the video codec .264. Removes immediately to 2 lenses, on the built-in and on the remote. The shooting is carried out both in front of the car, and behind.
But there are some disadvantages to this camera:
an old USB mini-BF / mini-BM connector, which after a few months stops contacting. USB micro-BF / micro-BM is much better and more reliable. It is necessary to use a smaller connector and it is better not to touch it at all.
not possibility to turn the screen towards the driver. If the car camera is installed on the passenger side, then the driver is almost nothing visible in the screen.
fasteners are simply disgusting. When driving, the fastening screw weakens, the car camera on the road turns off and turns around the fastening axis. This changes the direction of the survey. The screw can not be tightened more tightly – the thread is cut in a plastic case. A very bad decision of the developer.
The third negative is the most significant. I had to finish fixing the DVR. An additional plate from the aluminum strip is bent. Since the strip was not, and there was an aluminum corner, the strip was extracted from the corner. The corner caught with a wall of 3 mm., The other was not.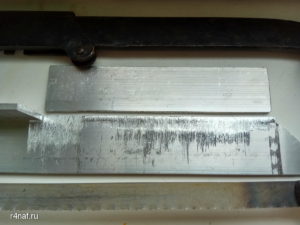 The aluminum strip was bent by means of vice, pliers, hammer. It was worth a lot of work, but everything was done as planned. Subsequently, the part was processed by a file, and sharp edges were sharpened.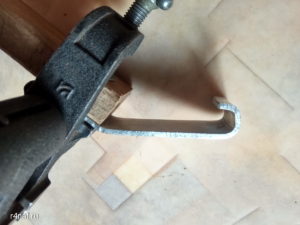 In order to fasten the fasteners closer to the middle of the product, I had to work a little with a file. A notch under the lens was cut.
That's what the mount looks like with a car camera. The mount was very strong and reliable. The fixing to the car camera is fixed to the screw. Now this screw does not have a special vertical load. It remains to paint the mount in black and you can put on the car.
Do not be afraid of the locksmith's friends, only 30 minutes and you easily fixed the developer's flaw. It is important to make such a revision before the camera is used, until the plastic thread completely disappeared.
Good luck to all!