Hello! We bring to your attention the program-log for VHF contests from R4NAF.
The program requires no installation, is written as a 32 bit application tested on Windows 7, 64bit, but also works in other Windows operating systems (2000, 2003, XP, Vista).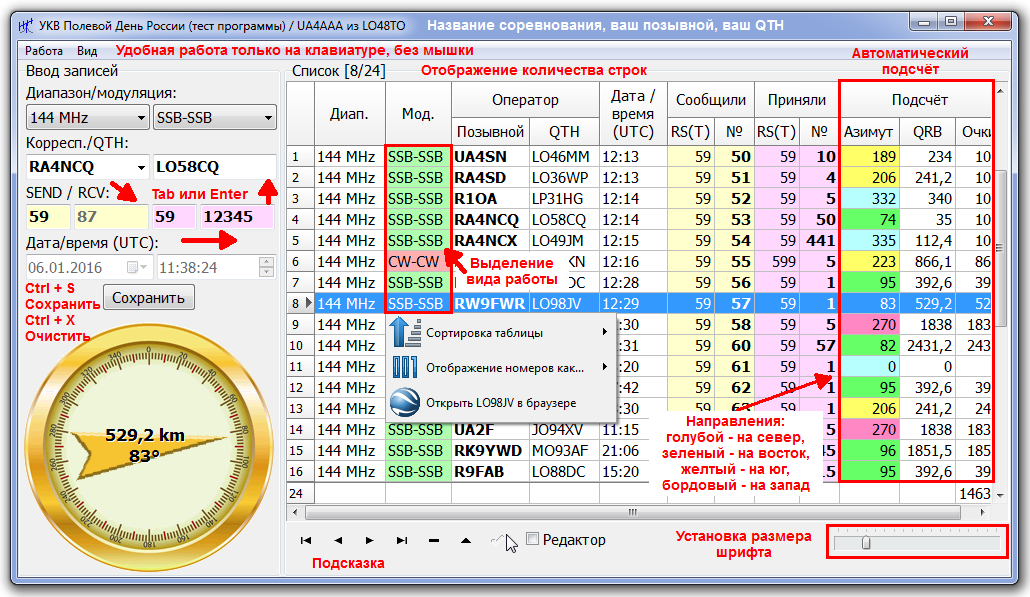 Benefits:
No installation required, download and run.
Easy adjustment of the font size.
Not a big size and only 2 file – exe + database (MS Access).
Not limited number of competitions.
When re-connection, QTH correspondent is inserted automatically.
Saving panel sizes, the width of the table columns, the location of windows, etc.
Easy data input – the opportunity to work without a "mouse", the use of standard keys Tab / Enter.
Built coloring table columns based on their content.
Visual compass showing the azimuth correspondent.
Automatic calculation of distance and bearing points when you enter the record.
Formation of EDI file in full compliance with the standard. Displaying information in Win1251 encoding.
Generating links maps using Google Map service.
With ties cards can easily go to this link to get more information on the call sign.
The program is a non-profit, there is no restriction in the work free of charge, no banners, no climbs in the internet.